At Cyberclick we are looking for a young person with initiative and autonomy for the position of Social Media Strategist , who wants to guide his career towards ONLINE MARKETING . We would like to find someone with experience in Social Media , eager to learn and who wants to have fun working, capable of making their own decisions and solving problems skillfully and creatively.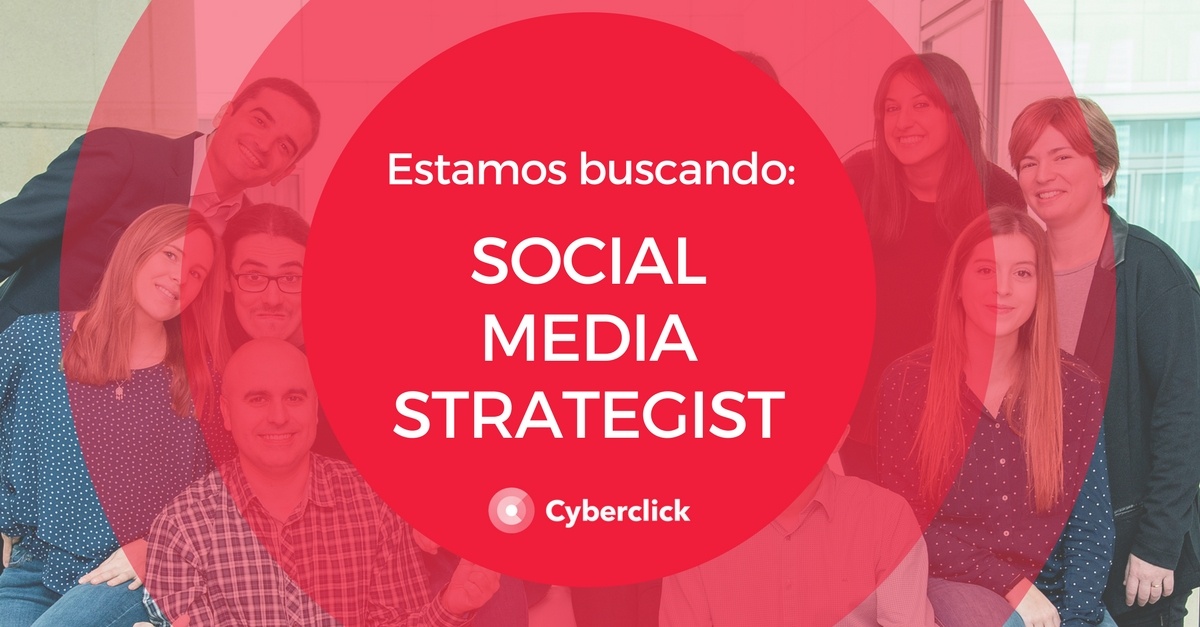 This person must have training in the COMMUNICATION area (Journalism, Advertising and Public Relations, Audiovisual Communication, Marketing or similar), with previous experience in a similar profile. We will value a creative profile combined with a great capacity to generate content, good written expression, attention to detail and a good relationship with users and clients.
Our expertise resides in online advertising: emailing, social media, SEM, content ads and mobile marketing. We work for clients around the world and we love technology.
If you want to join the happiest company in the world, this is your chance. 😉
We are looking for someone with:
Experience in Social Media (Facebook, Instagram, Twitter, Youtube …)
Desirable 2 years minimum
Strategy design in RRSS for clients
Updating of the RRSS for clients
Encourage user participation
Excellent written expression and correct spelling: Preparation, writing of content and creatives on social networks
Analytical capacity: Reporting and social analytics, monitoring reports. Analysis and study of competition and their actions on social networks
It will be valued:
Professional with an innovative and creative mindset and in constant search for improvement
We value handling programs for creating and editing video
This person will support other areas of the company in the writing and creation of advertising campaigns on social networks.
Studies in the areas of:
Master in Marketing
Master in International Digital Marketing
Master in Direct and Digital Marketing
Bachelor of Advertising and Public Relations
Knowledge:
Microsoft Office (Word, Excel, Power Point) – Average knowledge
Internet and Social Networks – Advanced knowledge
Adobe Creative Suite (Photoshop, Illustrator, InDesign, Premiere) – Basic knowledge
Schedule flexibility.
Salary to be agreed.
HOW TO SIGN UP?
Follow this LINK and complete the form to participate in the selection process!