If you want your digital marketing campaigns to work, you have to be able to offer visitors a second chance to become customers … and that opportunity is called remarketing .
The more we know about the behavior of users on the internet, the more we realize how complex the customer journey can be and how necessary it is to have multiple points of contact with the same user over time. And it is that when they arrive at our website for the first time, 98% of visitors are not yet ready to convert … but that does not mean that we have lost them forever.
The solution, of course, is to have a retargeting strategy in place that reminds users that we are there for them. To help you design yours, in this article I want to share 10 remarketing strategies that you may not know. Let's go there!
Do you want to learn more about Remarketing ? Discover the secrets of retargeting according to each type of platform or advertising action. Click here to download the free ebook .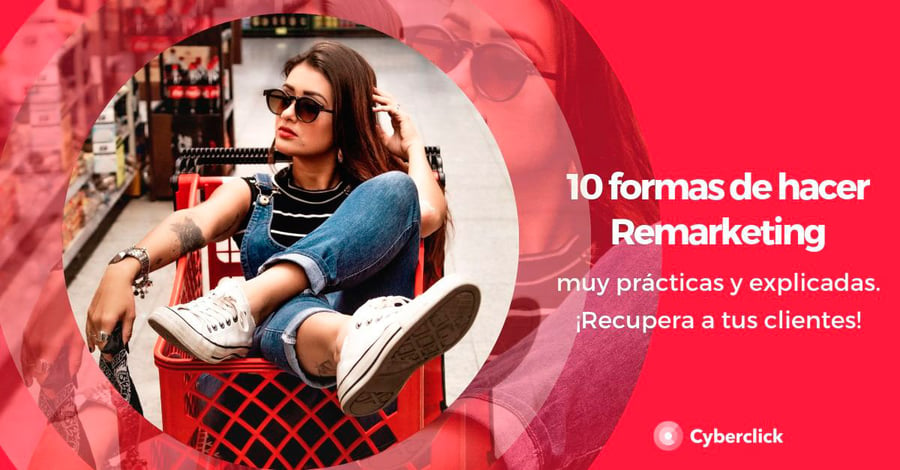 10 ways to retargeting to get your customers back
1) Generate a personalized audience on Twitter
In Twitter Ads , as with other online advertising solutions , segmentation is very important to generate valuable content and hit the target of our target audience.

For this reason, the network allows you to create different types of audiences for your ads, some of which are very interesting for retargeting campaigns. We are going to see two of them and how to implement them:
Custom audience : This option allows you to create an audience for your Twitter ads from a list of emails, for example, your CRM contacts. Once you've uploaded it, Twitter will compare the emails with those of its user base and, after a few hours or a day, create a personalized audience with users who were on your list.
Remarketing tags: with this option, you can implement a code on a specific page of your site to collect the data of the users who visit it. After a time, a remarketing list will be generated that you can use in your Twitter ad campaigns. In this way, you will know that you are addressing users interested in a specific topic and who already know your brand.
2) Generate a personalized audience on Facebook and Instagram
As it could not be less, Facebook Ads also allows us to generate "tailored" audiences through the Business Manager platform. With this tool, we can upload our email database and the platform will take care of the rest. And since ads on Facebook and Instagram are integrated into the same solution, we can use it to reach our ideal audience on both platforms.
Now, Facebook Ads offers a unique functionality for remarketing, and it is the possibility of expanding our user database through similar audiences . This option is particularly interesting if we see that our database is still small and does not generate enough critical mass to campaign.
To implement similar audiences, we will create our personalized audience from the email database and then tell Facebook to search for the users that most closely resemble those in our database.
With this video of ours you will learn how to make similar audiences and audiences step by step.
3) Generate a personalized audience on LinkedIn
LinkedIn's advertising solution is often overlooked when designing remarketing strategies, but it has a lot of potential for companies dedicated to B2B or related in some way to the world of work.
On LinkedIn, we can find all the options for remarketing under the umbrella of " Matched audiences ". These are three ideas that may interest us:
Import our contact list in .csv format and direct the ads directly to them.
Insert a pixel in a specific page of our site to create an audience with visitors to it.
Target ads to people who work on a specific list of companies.
Steps 1 to 6.
Step 7.

4) Launch remarketing campaigns in Google search
The remarketing lists for search ads Google Ads is a feature that allows you to create search ads "special" for users who have already visited your site (or a particular page of the same).
To create a remarketing list in Google Ads, we have to install the Google remarketing tag (this link explains step by step how to generate and install it) on the target page or pages and wait for the time we have marked to collect data, always bearing in mind that the subscription limit to these lists is 540 days.
An example of a remarketing tag is this, where AW-123456789 is an example that you must replace with the final code assigned by Google:

And then, to create a remarketing list you must go to Tools / Shared Library / Audience Manager within your Google Ads account.

Once we have our list, we can incorporate it into search campaigns with one of these basic strategies :
Raise the bid for existing keywords when the user is on our retargeting list.
Show a different ad to users in a specific remarketing list (for example, to those who have left a product in the cart and have not completed the purchase).
Bid on different keywords when targeting remarketing list users, for example, with broader terms than you would normally use.
5) Do email retargeting
Email remarketing consists of sending personalized emails to people who have already interacted with our website, with the aim of encouraging them to carry out some specific action. These are some strategies that we can use:
Send users of our database an email that leads to a landing with an integrated tracking pixel, and then show them personalized display advertising.
Send a reminder by email to users who have left an abandoned shopping cart.
Contract an external service to send emails to users who have interacted with our website, but have not left us their data.
6) Combine cart abandonment campaigns with display
The campaigns of abandoned carts are one of the most useful applications of retargeting, and that target users who are very advanced in the funnel. They may have added the same product to your cart on different sites to compare prices, or they may have had a distraction that prevented them from completing the purchase. In any case, it is a very juicy audience to offer them some extra incentive that encourages them to complete the purchase, such as free shipping.
To make display campaigns specifically aimed at users who have abandoned a cart, you have to configure it in Google Ads by adding users who have visited the cart page and excluding those who have reached the thank you or order confirmation page. .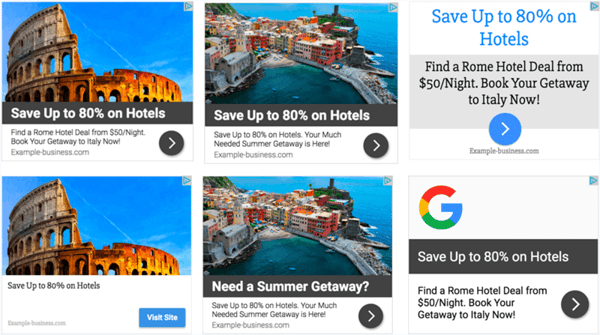 We can also do this type of campaign on Facebook and Instagram. If we have the pixels correctly implemented on the web we can reimpact those users who, for example, have added a product to the cart but have not purchased it, have stayed in some intermediate phase such as adding the payment method, or even those who have seen many products on the web without actually adding them to the cart.
These types of campaigns tend to be very effective, especially if we can accompany it with an extra incentive. We must bear in mind that in these campaigns we will have to control audiences a lot so as not to impact these same users many times. It is also important that we never build an exclusive remarketing campaign strategy, even if they are very effective campaigns, if we do not nurture them with new audiences, they can end up being very expensive and inefficient actions.
7) Target users who have searched the website
With this Google Ads option, we will configure the audience to not include any conversion and include an entry in the search field. We can choose to target users who have done any search, or focus on those whose searches match our product offerings . In this way, we can create advertisements that focus on a specific product of your interest or on similar or complementary articles.
8) Target users who have viewed a specific page on Google
This function is especially relevant if we see that we receive a lot of traffic on a specific product page , but the conversion rate is lower than expected. This can be due to several causes:
Information about the product is not enough, especially if it is new to the market.
The presentation of the product is not attractive to users.
Prices are not competitive enough.
Once we have identified and solved the problem, we can use remarketing to get users to give the product in question a second chance .
9) Target users who have become Google
Getting repeated conversions is essential to build customer loyalty, and customer loyalty is cheaper than attracting new customers. Therefore, this can be one of the most profitable ways of doing remarketing.
In particular, companies offering frequently purchased products, such as clothing or makeup, have found that users who make conversions more frequently early in their relationship with the brand end up being more valuable throughout their life cycle. .
10) Target high-value users on Google
Thanks to Google's retargeting options, we can go beyond simple conversions and focus on our most valuable customers .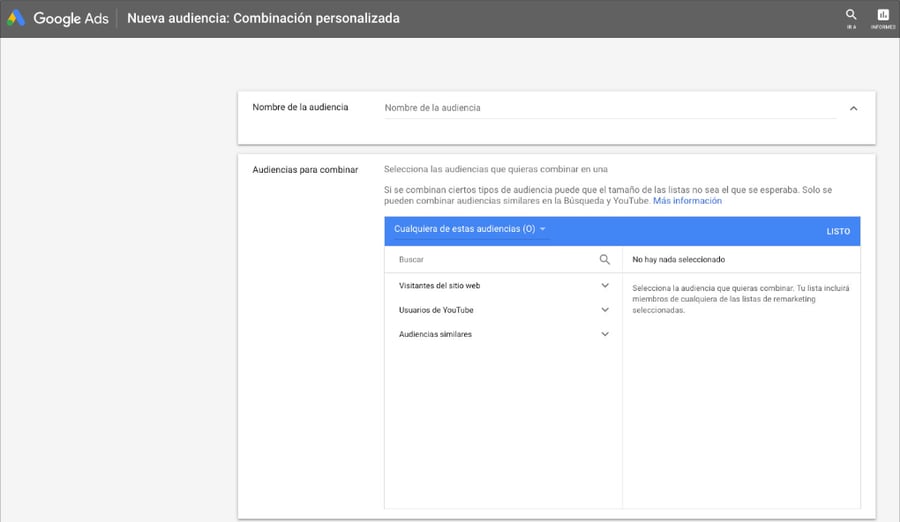 To do this, we will create remarketing lists that combine various parameters, for example, users who have made at least X visits, have bought in the last month and have spent a minimum of X euros. Once we have defined these parameters, we can encourage them to buy again by reminding them of products they have recently seen but not bought, showing them products related to those they already have or presenting them with the news from our catalog.