Have you already tried the remarketing options on LinkedIn ?
In recent times, the largest professional social network is taking a new orientation, more guided to content and interaction between users. For this reason, we believe that it is one of the advertising platforms on social networks that will have the most growth in the coming months and an ideal option for B2B companies seeking to target their ads to a specific professional sector.
It is true that if we compare it with other advertising platforms, the cost per click of LinkedIn is high. But in return, it allows us to reach a highly segmented professional audience that would be very difficult to access by other means. So to get the most out of investment in advertising on this network, in this guide we tell you how to remarketing on LinkedIn and multiply the results .
Do you want to know how to remarketing on Facebook, Instagram, Google, LinkedIn and Twitter? Click here and download our free course.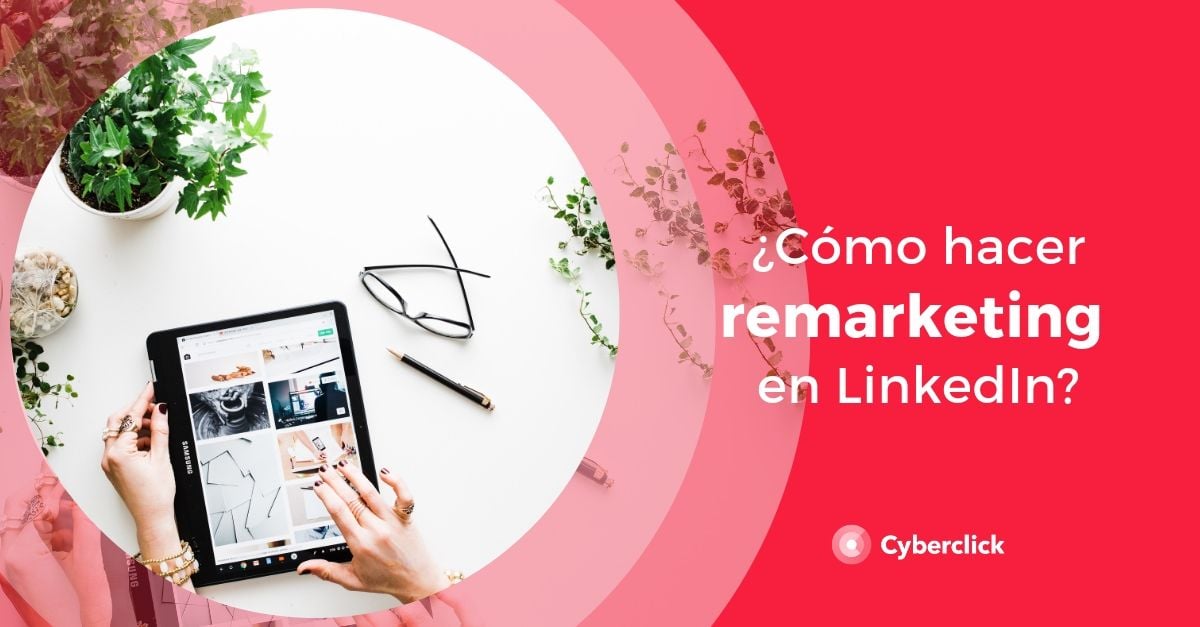 How to remarketing on Linkedin: visits to your website
The first thing we are going to see is how to use LinkedIn's advertising options to remarketing people who have visited your website (either the entire domain or some specific URL). On LinkedIn, the option that encompasses all remarketing alternatives is called " Matched Audiences ".
Step 1: create and add the Insight Tag
The LinkedIn Insight Tag is a small JavaScript tag that enables conversion tracking, website audiences, and detailed website information options to be used later in your LinkedIn ads.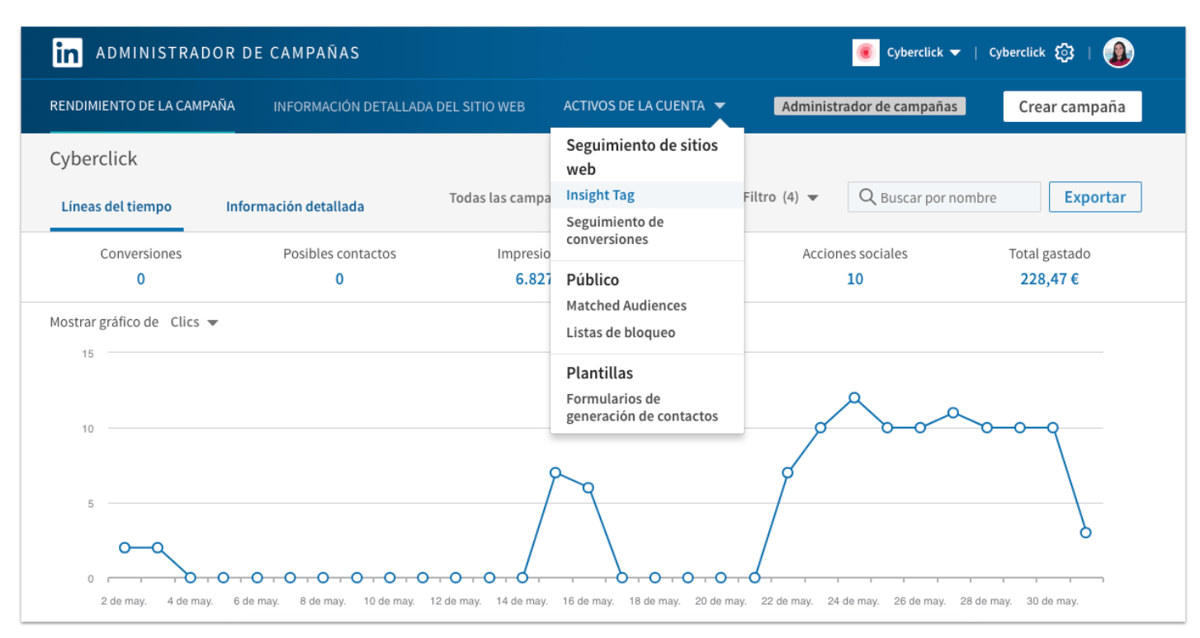 To activate these options, it is necessary to add this tag to the code of your web page following these steps :
Log in to the LinkedIn campaign manager and go to the account you want to launch your remarketing ads from.
Go to the Account Assets menu and click Insight Tag from the dropdown menu.
Click Install my Insight Tag and select the method you prefer to install it. To see the code, choose I will install it myself.
Copy all the code that appears in the sale and add it to the pages of your website . Ideally, add it right before the closing tag, in the footer of the home page.
Now, you will have to wait for LinkedIn to validate your domain. This process can take up to 24 hours, but in some cases it only takes a few minutes. When the domain is verified, the status will change to Active and the graph will show the last time LinkedIn received a signal from the tag. These are the possible states:
Active : LinkedIn has received a signal in the last 3 days. The status will be shown in green.
No recent activity : LinkedIn takes more than 3 days without receiving a signal. The status is shown in orange.
Inactive : LinkedIn has been without a signal for more than 7 days. The status is shown in red.
Unverified : LinkedIn has never received a signal from this Insight Tag. The status is shown in red.
Remember that a web page can only have one Insight Tag per domain, so don't try to add a second tag. If you want to associate a new account with an already installed Insight Tag, use the permissions option on the account that has access to the tag.
Step 2: create your retargeting audience on LinkedIn
By installing the Insight Tag, LinkedIn will have begun to record visitor data for your site . Now we have to indicate exactly what is the audience that we want to include in our remarketing list .
To do this, log back into your account in the campaign manager and click Create an audience . Here you can decide if you want to include all the visitors of your website in your list, or only those who visit a specific page or pages. If you want to track conversions, you'll need to specify which pages on your website you'd like to count as a conversion.
To customize the audience for your remarketing campaigns, you have three options: "pages that start with this URL", "pages that have this exact URL" and "pages whose URL contains the specified text".
The "pages starting with this URL" option includes all URLs starting with the same character string that is specified, but the ending may be different. It is the most suitable option if the URLs include additional parameters at the end that you want to exclude, for example, user identifiers that are generated dynamically.
The "pages that have this exact URL" option is the most appropriate if your website URLs are static and you want to include in your remarketing list only users who have visited a specific page or pages. For example, you might want to include the URL www.your site.com/landingpage.
Finally, the option of "pages whose URL contains the specified text" can be used to include all the pages of your site or a group of them.
Keep in mind that if you add multiple URLs in the public of your website, a user will only have to visit one of them to be included in the remarketing list .
Step 3: launch your retargeting campaigns on LinkedIn
Once we have configured the public following the previous steps, we will have to wait for it to grow enough. Obviously, the public will increase in size as users visit your website. The minimum size of an audience to use it is 300 people , so it will take more or less time depending on the amount of traffic your website generates.
And you're ready to launch! To make the process as streamlined as possible, LinkedIn recommends using one of these two options:
Set up your campaign to start publishing as soon as your remarketing list has at least 300 members.
Save the campaign as a draft as the audience grows and launch it manually once you have reached the audience size you want.
How to Remarketing on LinkedIn: Using Your Own Database
Within LinkedIn Matched Audiences , we can also implement audiences created from our own databases (similar or lookalike) , for example, a file of clients or leads who have downloaded content on one of our landing pages.
To implement this type of audience, you must follow these steps:
Click on the Account Assets menu and select the Matched Audiences option . Next, click on the Public button for loaded lists , and finally, select the Load a list option .
Upload your contact list in CSV format.
Wait for LinkedIn to verify your audience and show you the results of the contacts found in its database. Remember that you will need a minimum volume to be able to use the remarketing list in your campaigns.
Once the list is approved, you're ready to create and approve your remarketing ads on LinkedIn.
Recommendations for better retargeting on LinkedIn
To finish, we are going to see a series of best practices recommended by LinkedIn to take better advantage of your remarketing campaigns on its platform:
Use a specific nomenclature to name your audiences , such as "Visitors to the 'More information' page". It has to be easily recognizable by your entire team and over time, so try to make it as obvious and concrete as possible.
Add the creation date to the name of your audience , to easily distinguish the audiences you have recently created and the oldest.
Choose the URLs that best fit the objectives of your campaign . Remember that you have 3 main options: include all URLs that contain a character string (ideal if you want visitors to your entire domain to be included in the public), include URLs that start with a certain character string (ideal for sites website with dynamic URLs) and include only exact URLs (ideal for specific campaigns).
Check the status of your audiences . Every time you create an audience with new URLs, be sure to check it 24 hours later to check that the status has gone "verified". If this is not the case, check that you have spelled the URL correctly and that you have applied the correct segmentation rule.
Diversify your campaigns . The grace of remarketing is that it allows us to send personalized messages depending on when a user is. That's why LinkedIn recommends starting with a visibility-oriented campaign.
Publish multiple campaigns at once using both demographic and URL targeting to optimize results.
Set your bids at the top of the recommended bids to win more auctions and thus increase the visibility of your remarketing campaigns.