The remarketing is based on creating customized ad campaigns for users who have previously visited your website, your online store or other content. Based on the information that we already have about them, we use this strategy to end conversions or purchasing processes that have been half done.
We recently saw in this blog how to remarketing with Google Ads . Now I want to tell you how to apply this strategy in two of the largest social ads platforms: Facebook Ads and Instagram Ads . Do not miss it!
Do you want to know how to remarketing on Facebook, Instagram, Google, LinkedIn and Twitter? Click here and download our free course.
Types of remarketing on Facebook and Instagram
Facebook Ads and Instagram Ads always go hand in hand, since the ads on both networks are purchased from the same advertising solution. We have very complete remarketing options, but these are the four main types of ads :
Video remarketing . The video has more and more weight online due to its increasing volume of users, so we should take it into account and work on it in our campaigns.
Remarketing based on interaction with the Facebook or Instagram page. Most of the traffic we generate on social media is directed to our own brand page. Therefore, it is important to use this traffic as one more option within the remarketing strategy.
Remarketing with dynamic ads . This remarketing option on Instagram and Facebook interests us because they are simply the most efficient. Dynamic ads integrate our product catalog in real time and achieve a much higher conversion rate. In the case of advertisers who have their own ecommerce, it is recommended to integrate Facebook ads with the Product Catalog Feed .
Lead Generation ad-based remarketing . Lead Generation Facebook ads allow you to capture leads from the social network itself, without the need for the user to visit our page. And thanks to the remarketing option, you can directly incorporate these captured users into your audience to continue working on the relationship with them.
In addition to these four main types, you can also create remarketing campaigns from your website, your Canvas ads or visits to your application.
Remarketing on Facebook and Instagram: understanding the customer journey
Facebook and Instagram allow to create very sophisticated remarketing strategies, to approach the user in different stages of the conversion funnel:
TOFU phase : in the TOFU or "top of the funnel" phase, the user has detected that he has a certain need and is starting to look for information to respond to him (for example: "I want to get in better shape this course"). Right now, what works best is to offer you generic content.
MOFU phase : in the middle phase of the funnel ("middle of the funnel") the user already has clearer what he wants and is evaluating different options. Following the example above, perhaps the user has decided that he wants to sign up for climbing and is looking for climbing walls in his area. Here we can maintain your interest with more specialized content, for example, "5 things to value to choose the perfect climbing wall".
BOFU phase : finally, at the bottom of the funnel, the user has already considered all his options and is still interested in you. All that remains is to give it the last push! Usually in the last phase of the funnel offers and free trials work well.
To successfully tackle this complexity, we need to understand how the customer journey of our particular brand works and when we are addressing a particular customer. Thus, we can use remarketing on Facebook and Instagram from the top of the conversion funnel (for example, with the option of similar audiences) to the one closest to the final conversion (for example, with an abandoned cart strategy).
How to create a remarketing campaign on Facebook and Instagram step by step
1) Link your advertising account with the Business Manager
Although this step is not mandatory, I always recommend it, since linking your Facebook advertising account with the Business Manager allows you to centralize all your activity on the network.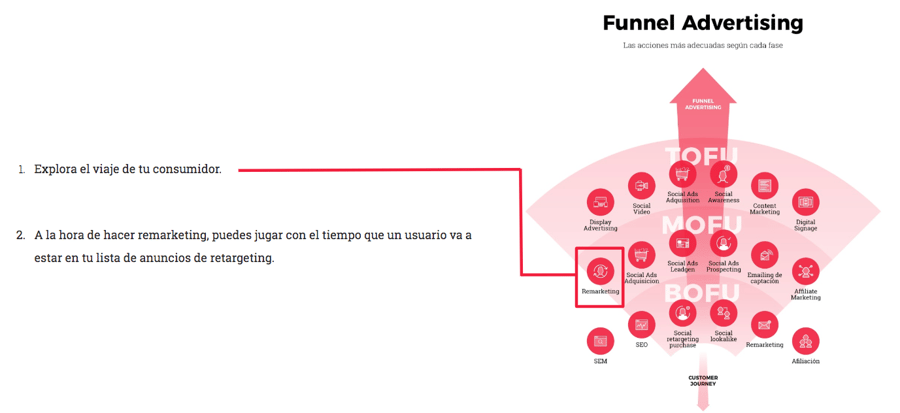 For those who do not know, Facebook Business Manager is a tool that allows you to manage your Facebook and Instagram pages, advertising accounts and other applications in an integrated way from one place. This makes it easy to share accounts with multiple users and see all the activity in an integrated way, facilitating reporting.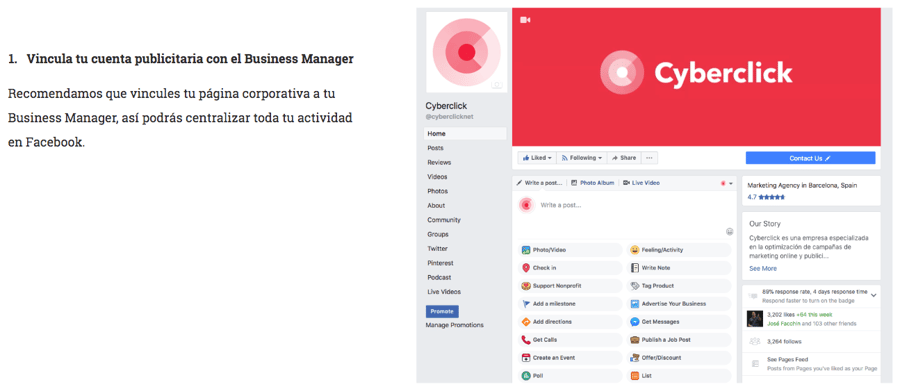 2) Create a custom audience
The essence of remarketing campaigns on Instagram and Facebook is to target a specific group of users, so for this we must create this audience. You just have to follow these steps:
Enter "Public / Audiences" (located under "Assets / Assets").
Once there, click on "Create audience / Create audience" and choose "Custom audience based on traffic from the website or your app".
If you have already implemented a remarketing pixel on your page, you will be able to choose the corresponding audience. If not, it's time to get going! Click the "See your remarketing pixel code" option, copy the code that will appear and put it on your website between the <head> tags (if you don't know how to do it, ask a web or computer designer for help). You will see that there is a generic pixel for all pages and then a specific one for conversions, which is installed after the generic one.
Finally, click on "Create my audience" and voila! Remember that for any remarketing campaign it is necessary to have a recognizable and easy to work nomenclature . The most logical thing is to work with a unified nomenclature between the different sites where you do remarketing (social networks, Google Ads …).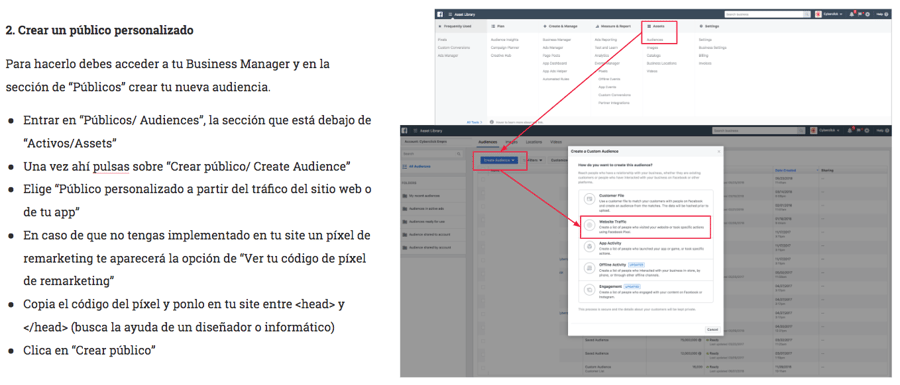 3) Choose a URL and a data collection time
In the URL field, we must select the page whose visitors we want to capture. Next, we will have to define the data collection time , that is, for how many days users will remain on your remarketing list. The shorter this term, the fresher the brand memory will be, but it should always be long enough for the list to have a critical mass of users.
The minimum number of visits, interactions or conversions defined by the system to start remarketing is 100, but the truth is that this number falls short. In order not to quickly "burn" the audience, it is advisable to wait until there are between 2000 and 3000 users on the remarketing list. For smaller websites, we may have to lengthen the collection window to make sure this is possible.
The most common options for the data collection period are 7, 14, 30 or 90 days, but in some cases it can be extended up to 180 days or, in the case of Lead Generation Ads, up to 360.
My recommendation is always to create a separate campaign for each event, for example, purchases, product visits or completed forms. In this way, you can work creatives independently and manage different goals and bids.

4) Create your first remarketing campaign on Facebook and Instagram
After creating the remarketing lists, you will have to wait and monitor them until they have a substantial mass of users. When you do, you are ready to launch your first campaign by following these steps:
In the campaigns section of the ad manager, choose "Create."
Choose the target based on the audience you are targeting.
Select the remarketing list you want to use for the campaign.
Add a campaign uptime and a budget.
Now, head over to the ad section and fill in all the fields for your first ad. Choose your first creativity and copy. Note that you can come back later to add more ads or an offer to encourage the purchase.
Remember that you are targeting users who are still undecided, but who already know your brand. Therefore, you can save the presentations and focus directly on messages oriented to continue convincing them.
It's also important to try different copys and creatives and experiment with A/B tests to see which ones work best.

5) Launch your remarketing campaign on Facebook and Instagram!
You have already created the campaign, so you can launch it to start getting conversions and results from now on. But beware: your work is not over yet.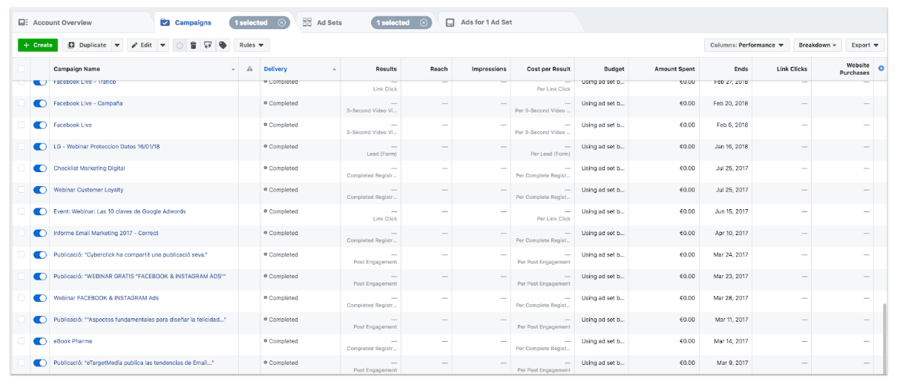 From launch, you will have to keep track of the evolution of campaigns and ads. Turn off the worst-performing image and copy combinations, spend the most money on the best options, and keep trying new creatives.
Over time, you will also be able to see what are the best times to approach your customers within the funnel and the URLs and time periods that best fit what you are looking for. In short, never stop trying and learning!