Surely it has ever happened to you that you are browsing an e-commerce and soon an email will arrive with suggested products or with a discount on the same products that you have considered buying.
This digital marketing technique is called email remarketing or email retargeting, and it is a fairly effective technique to get users to convert.
Watch the video where we explain how to combine the benefits of email marketing and remarketing.
What is email remarketing?
The email remarketing is a technique that involves sending emails customized to users who have already interacted with our web , in order to encourage them to take the action that we suggest (purchase, conversion, registration, etc.)
There are several types of email remarketing, and the objective of this article is to guide you so that you understand how each type works and how and when to implement them in your marketing strategy .

1) Direct the user to a landing page with an integrated pixel
The first type of email retargeting is the most common. We mean sending an email to our database that leads to a landing with an integrated tracking pixel.
It works like this, the user receives an email with some incentive to click and go to your website, once there, thanks to the tracking pixels, you can track their behavior and see what interests them about you. In addition to studying the user, you can take advantage of the pixel to send display advertising while browsing other pages on the internet. This will make them remember your products and identify you as a brand , and thus, reconsider visiting your website and even going straight to buy.
2) abandoned cart
The second type of email retargeting that we will address in this article is the abandoned cart . This is a technique widely used by e-commerce, since its conversion ratio is very high.
If the user has registered in your e-commerce, you can follow his behavior automatically on your website and the moment he leaves the shopping cart, you can send him an automatic email reminding him that he has forgotten to complete the purchase.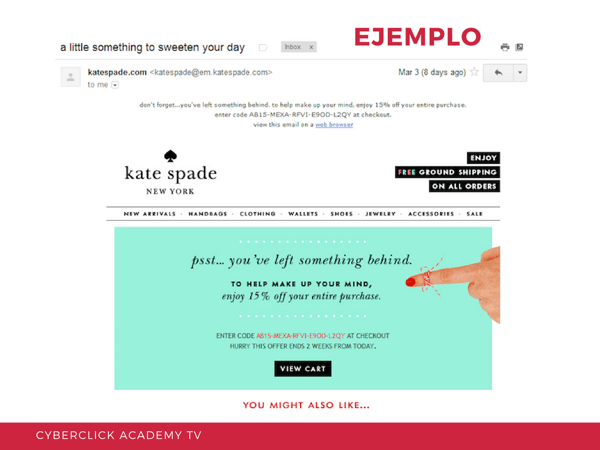 If a user is visiting your website and exploring your products without leaving their data, you will not be able to send them an email, but you will be able to traditionally remarketing them if you have the tracking pixels integrated into your website.
Once you have detected your cookie and have added it to a Google or Facebook remarketing list, for example, you can impact it with display ads on the respective platforms that are part of their network.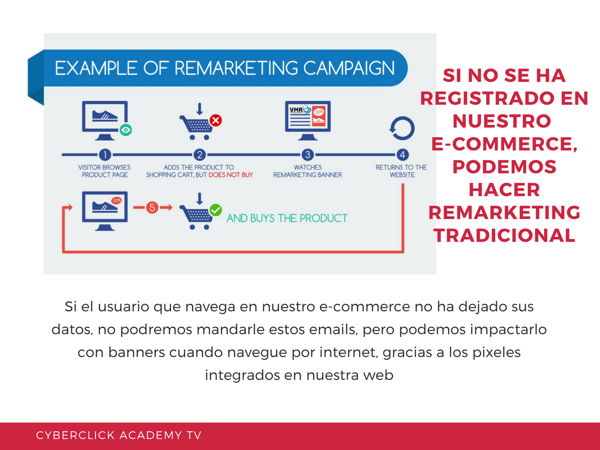 3) Email remarketing using our CRM
The third type of email remarketing is to cross our database with the database of some advertising network .
Google, Facebook, LinkedIn and Twitter have such large databases that they allow you to provide them with your database and cross it with their own to identify common users, and thus launch advertising when they browse their sites.
This type of remarketing works very well to attract the attention of users who have not interacted with your website in a long time. It is a good way to launch reminders with your product offer.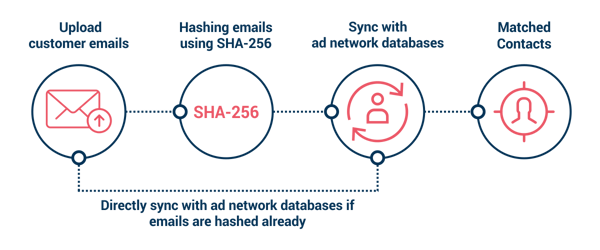 4) Email remarketing to users who are not in our database
The fourth and last type of remarketing consists of hiring an external service to impact by email those users who have not left their data and who have interacted with our website but have not converted.
First, the unidentified user visits your website and leaves without leaving their data or completing a purchase, the external server crosses their cookie with the database of their partners and when they have identified it, sends them a reminder email on our behalf. These service providers typically charge a shipping or conversion fee.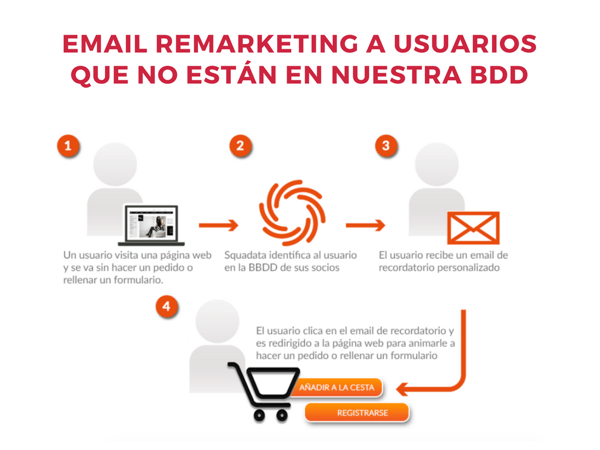 These are the types of email remarketing that you can implement in your email marketing strategy to encourage the user to complete their transactions on your website. We hope this article encourages you to try them out!
If you have any questions, you can see the full explanation of the topic in our tutorial, clicking here .