Today we are celebrating! Yesterday Great Place to Work recognized us as the best place to work in Spain. This award means a lot to us and coincides with the company's 15th anniversary , being pioneers in online marketing and advertising.
We are very happy to have achieved throughout this trajectory a solid team, excited and committed to offering a service that seeks excellence. In addition, it is essential for us to work in an optimistic work environment, based on happiness. Last year we were third, THANK YOU for recognizing us this year as the best # BestWorkplacesPymes2014.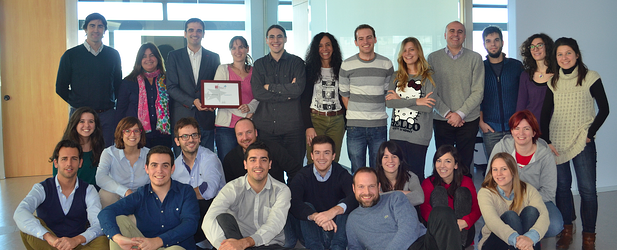 We leave you with the words of David Tomas, our CEO:
For us, the recognition of being the 1st best place to work in Spain is a source of pride. We understand that the companies that allow the team to work feeling fulfilled personally and professionally are the ones that will reap the most success in the future and we want to be part of this cultural change in the workplace.
In the different companies of the Cyberclick group (Cyberclick, Clacktion , Coregistros , Digital Response and InboundCycle ) we are lucky to have extraordinary people who make everything seem easy . This allows us to have very positive interactions between the team, with customers, suppliers and all the people with whom we are in daily contact. With all of them, we live and will continue to live our 3 values: 'Admire people', 'Always Find a Better way' and 'Customer experience freaks '. Because we believe that work should become a place of self-fulfillment and improvement.
We take this opportunity to congratulate Appszoom and Laboratoires Quinton, second and third finalists, and all the companies that are in this ranking. Together we will continue to promote the business culture where people take precedence and work with confidence, transparency and excellence.
About Great Place to Work® 
Business leaders and researchers trust Great Place to Work® measurements. The annual research it carries out, based on information collected, represents more than 10 million employees in 50 countries, from around 6,000 organizations that vary in size, industry, maturity and structure.
Employees consider a great place to work to be where they: trust the people they work for. They take pride in what they do. They enjoy the people they work with.
From the leader's point of view, an excellent place to work is one where the objectives of the organization are achieved and people give their best. They work as a team / family all in an environment of trust.