We continue to share with you articles related to the use and benefits of advertising on Facebook . In this content we will see how you can configure remarketing campaigns in 5 steps from Facebook Ads Manager.
In this video you have detailed 5 steps to remarketing on Facebook Ads. 
If you missed any of our Facebook Ads related  articles  , here are the links:
Advertise on Facebook Ads
Facebook Ads: Recognition Campaigns
Facebook Ads: Consideration campaigns within Facebook
Facebook Ads: Conversion campaigns within Facebook
Facebook Ads: Advertising on Instagram
Facebook Ads: Campaigns on the Audience Network
Facebook Ads: Advertising on Facebook Messenger
What is remarketing?
Remarketing  is a system that allows users to be re-impacted who have already visited your website or some specific section of it, or who have installed or interacted with your application. Normally, remarketing or retargeting is used to encourage potential customers to complete the action that you as a brand have as a goal, be it a registration, a purchase, or a download.
For example, surely you have noticed that when you view a product in an  e-commerce, then banners of that product chase you by all the websites you visit.
That is remarketing! and in social networks it works the same, only that the advertising appears to the user, in this case, on Facebook, Instagram or its partner network.

Why is remarketing effective?
When buying online, it is normal for the user to be undecided, since when we make purchases online we cannot see the product directly or test it. Although the product has many opinions and a long and accurate product description, the user will prefer to evaluate their options and compare before making a decision.
The possibility that a user enters a website and buys the first time is very low, for this reason, it is important to remind him of our offer, and what better way to do it than through Facebook, a social network that he probably visits constantly.
Remarketing increases the probability of purchase, and therefore, it tends to have much more ROI and lower costs than first impact advertising.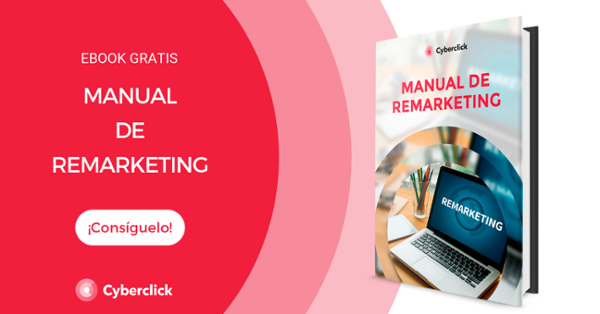 5 steps to remarketing with Facebook Ads
Follow these steps and create your remarketing campaigns with Facebook Ads :
1 # Create a company page on Facebook
Company pages must always be linked to a personal page or to your company's Business.
2 # Create a custom audience
To create a personalized audience, you must access your Business Manager, and in the "publics" section create your new audience. For this you must:
Choose "Custom audience based on website or app traffic"
Enter "Public", section that is in the upper left side menu.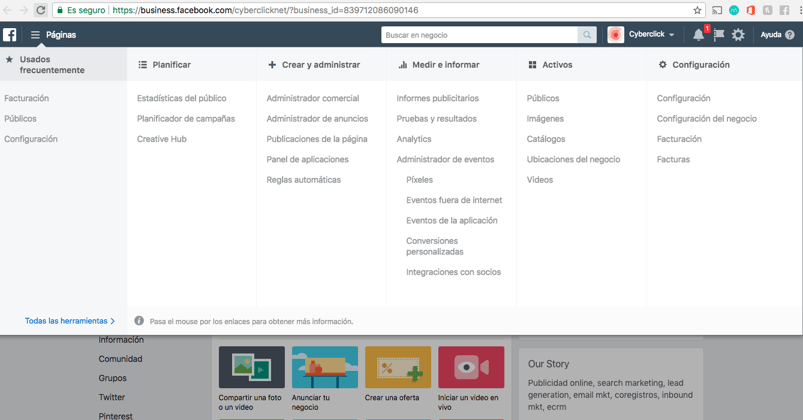 Click on "Create audience"
Choose " Custom audience based on website or app traffic"
In case you do not have conversion pixels implemented on your website, the option "See your remarketing pixel code" will appear.
Click and copy the remarketing pixel code, paste the code provided by Facebook and paste it between the <head> and </head> tags of the section of your website where you want the pixel to collect data. If you do not know how to do it, seek the help of any programmer or designer, since depending on the web there may be different ways to introduce it.
Click on "Create audience".
Video where we explain how to install the Facebook pixel and what it is.
3 # Choose a URL and data collection time.
Add a name, description, as well as the URL or events that you want to generate the audience for … and the time that you want Facebook to collect the data.
The period of time  refers to the collection of data , that is, from when we want to collect the data, it is customary to work with periods of 7, 14, 30 or 90 days. It is important that when deciding when you want to collect the data, you should take into account what type of campaign and messages you are going to do. For example, if you tend to make a "weekly offer" and want to impact the people who have seen the product you are going to offer that week, you could use a time of 7 days.
The home page of your website should not be used as your URL:  your home can be accessed by anyone, with or without purchase intention, so it is not usually the best option for this type of campaign; Surely there are points on your website such as registration forms, shopping baskets, etc. that they will give you much more information for your remarketing campaigns
Adjust the time period depending on your visits.  For small websites it is usual to increase the time period for the data to be saved a little. In fact, if you have a very small audience, Facebook itself will not let you use it for your campaign. At least it allows the pixel to collect 100 visits in order to start remarketing. We recommend waiting until 2,000 or 3,000 to do this type of campaign.
You can always edit this data in the "Public" section.
4 # Create your first remarketing campaign
Monitor your audience, and when you have a substantial number, create a new campaign and name it in some way that you identify is remarketing.
These are the steps to follow to start it up:
Click on " Create " in the campaign section in the ad manager.
Choose your goal
For the ad set, choose the remarketing audience you created, add a time period for your campaign, and a budget.
In the ad section, fill in all the fields for your first ad. Choose a specific creativity and copy for those indecisive buyers. Then if you want you can make another couple of announcements within the same group to vary their content. You can use strategies such as adding a small discount for those more indecisive users.
Remember that the text and images should be aimed at people who already know you. Don't do the same publicity that you do for the general public… you should try to convince those undecided people who left your website!
5 # Launch your campaign!
You already have it, now you can create remarketing campaigns with Facebook Ads.
Did you have any doubts about the configuration of the campaigns? Download the tutorial pack to configure your Facebook remarketing campaigns!